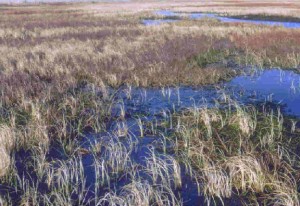 History:   Not mentioned as a resort by A-W (1963) nor R&O (1979).  This was probably at one time a regular wintering site, but its precise status remains obscure.  We know almost nothing about this flock, its former abundance, precise feeding range and alternative roost sites.
Status: Extinct, formally of regional importance.  Seemingly there was once a small group of Greenland White-fronted Geese that wintered in the uplands of central Wales, using the patterned mires of Llanbrynmair uplands which were afforested in the 1980s.  We know that 26 Greenland White-fronted Geese were present at Llyn Hir, south of Llanerfyl in November 1988 and 10 were seen in March 1990.  There were no other sightings by goose counters at the site, despite several visits in the late 1980s and 1990, but local fisherman reported that they were present at other times (Francis & Penford 1990).  It seems likely that cold weather would have forced this group into lowland areas during inclement weather, but there are no such reports from nearby areas. Intensive survey during the winter of 1992/93 by B.K. Long failed to locate the flock and it is probable that it no longer exists.  It is possible that it was always a satellite group from the Dyfi Estuary flock, and it is not clear if previous records refer to one or more flocks centred upon Bugeilyn and one in the Bryn y Fawnog/Llyn Hir area (CCW unpublished report).  It seems likely with hindsight that this flock probably foraged widely amongst the patterned surface mires of the Llanbrynmair Moors and adjacent blocks of upland, but were probably adversely affected by the widescale afforestation of these peatland feeding areas and concentrated on the Llyn Hir area in their later years, but of course, we shall never know the true cause of their loss.
Feeding sites and habitat: Formerly reseeded grassland, bog and peat-cuttings of the Central Wales uplands (see Fox and Stroud 1986, Francis and Penford 1990).  There was frequently evidence of goose feeding, in the forms of uprooted Eriophorum angustifolium and abundant goose droppings, around the edge of Llyn Hir and at Bryn y Fawnog Common, an area of quaking mire and Sphagnum pools associated with former peat cuttings.
Roosting sites: Not known in any detail, but recorded using Llyn Hir and Bugeilyn in the past.
Site safeguards or disturbance refuge:  Llyn Mawr, where the geese have been seen roosting and feeding, is SSSI and is owned by a sympathetic angling club.  Bryn y Fawnog is commonland with active rightsholders.
References
Fox, A.D. & Stroud, D.A. (1986) The Greenland White-fronted Goose in Wales.  Nature in Wales n.s. 4: 20-27.
Francis, I.S. & Penford, N. (1990) Greenland Whitefronts in mid-Wales, 1987-1988, with a postscript for 1988-1990.  pp.15-17. In: GWGS Research Report No.7.  Greenland White-fronted Geese in Britain 1987/88-1989/90.  GWGS, Aberystwyth.