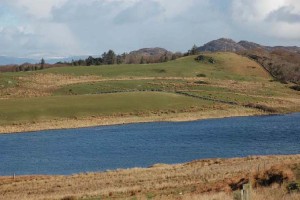 Colonsay Greenland White-fronted Goose habitat at Loch Fada – photo: Mike Peacock
With recent declines in numbers of Greenland White-fronted Geese throughout their range, particular concern has been expressed for the future of flocks occurring at their smaller wintering resorts.  An earlier analysis undertaken in the 1990's (when the conservation status of the population as a whole was better than at present) showed that the numerically smallest flocks were most likely to be declining, even if the overall population was increasing at that time. With this trend in mind, addressing the loss of wintering sites and contraction of winter range was considered to be a priority for action by the Greenland White-fronted Goose International Workshop held in February 2009, where it was decided that efforts should be made to assess the current status of the smaller wintering flocks throughout the range.
With the financial support of Scottish Natural Heritage (SNH), the Greenland White-fronted Goose Study (GWGS) and Wildfowl & Wetlands Trust (WWT) (assisted in two areas by RSPB Scotland staff) undertook a study of these smaller sites in Scotland, with the aims of identifying any factors that could be addressed to improve their status at each and prevent flock extinctions if possible. During the winters of 2009-2010 and 2010-2011, 19 sites across the Scottish winter range were visited. We assessed land use and a range of other factors in the field against a set of standard criteria, and collated historical information and comments from local counters and some farmers. Information about participation of many areas in agri-environment schemes was also provided by SNH, following entry of the site data into their Geographic Information System.
Please feel free to download the report resulting from this project via the following link to the pdf file of the document. GWFG Small Sites Project – final report 2011